What consists of a good program? Well, it's a program continually adapting as technology improves in the healthcare industry. While discoveries are constantly coming out for new treatment options and techniques to aid in conjunction with a service, we need to do what's best for you, the patient. We don't chase the new shiny object; we methodically add in or adjust based on what's best for our clients. With that said, we have recently revamped our neuropathy program. We have added three new items to our protocol: the power plate, compression boots, and shockwave therapy (no, there is no electrical shock, it sounds scarier than it is). Here is a breakdown of the entire Neuropathy Program.
Getting A Baseline
Part of treating neuropathy is getting a better understanding of where you are, so we start with a thorough evaluation. We go through the history of your condition and treatments you may have tried; we then obtain a baseline by conducting an orthopedic and neurological assessment. 
We get a neuro-vascular evaluation using the TM-Flow System; a video helps explain this non-invasive testing.
When necessary, we may take x-rays (these are taken on-site) and check for palpitation of the affected areas to evaluate the effects of skeletal dysfunction, edema, and tendinopathies, and do punch biopsies to measure the extent of the damage.
Devices and Treatments We Can Use
RST-Sanexas
This revolutionary device uses electric cell signaling to imitate, exhaust, and interrupt neuron function. Every process in our body is controlled by electricity, and this technology reprograms the electric functionality. The system successfully treats circulatory issues, acute and chronic pain, long-term (intractable) pain, and drug-resistant pain. The neoGEN® also offers specific-parameter signaling for efficacious neuromuscular reeducation, muscle strengthening, and relaxation of muscle spasm activity.‍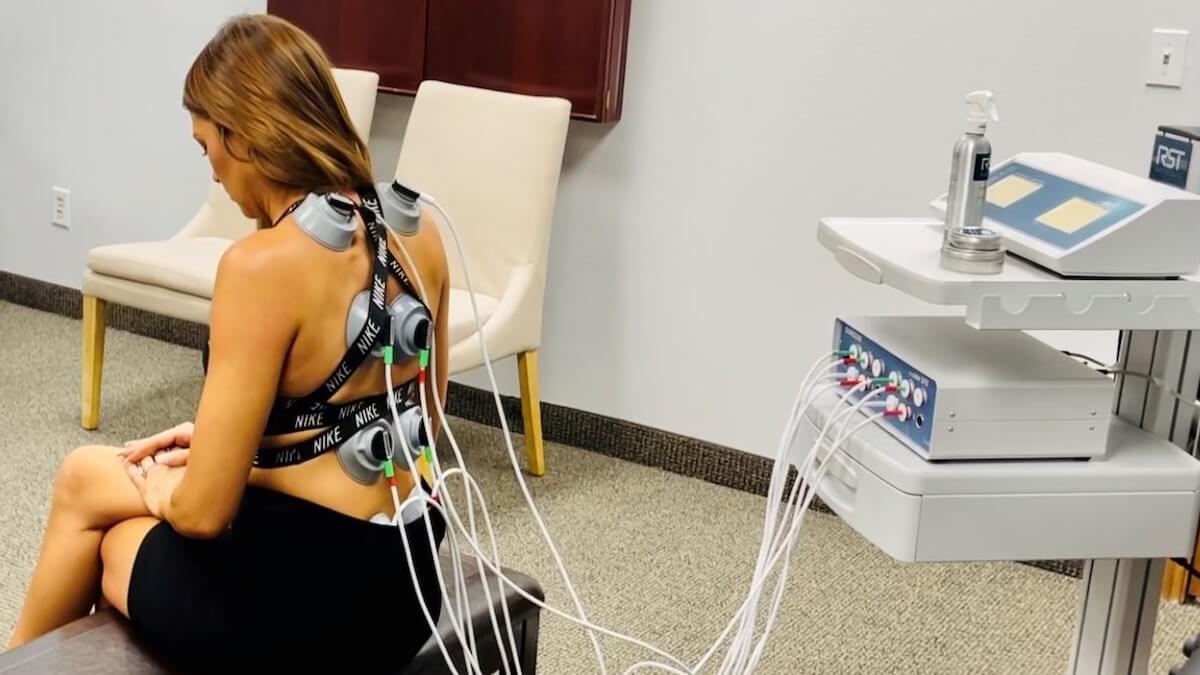 Power Plate
A superior characteristic of the Power Plate is that it moves subtly backward, forwards, and side-to-side. This three-dimensional "tri-planar" movement is key to enhanced proprioceptive stimulus. Our bodies are designed to move and respond this way, so Power Plate creates an "authentic" environment to stimulate the body's natural responses. Take a look at the Power Plate video below.
Vaso Pneumatic Compression
Compression therapy uses precise control pressure to the extremities, which promotes the circulatory system's health. Compression therapy has been around Cynthia since the 1950s but only caught on in the early 2000s. There are a lot of benefits that come from this treatment alone. Here is what the compression system looks like.
Shockwave Therapy
As mentioned above, this non-invasive treatment does not deliver an electric shock. It utilizes an array of low-energy acoustic wave pulsations administered through the injured area's skin. Many scientific studies have successfully established shockwaves' ability to treat chronic conditions by reducing pain and restoring homeostasis. Shockwave therapy is a standalone treatment for an injury or illness-induced pain without drugs or surgery. The point of the procedure is to activate the body's natural healing response. Here is what it looks like.
PENS Device
The Percutaneous Electrical Nerve Stimulator (P.E.N.S.) is a neurostimulation device that sends impulses through electrode arrays. Those electrode arrays are implanted directly into the nerve endings based on the patient's diagnosis. Here is what it looks like.
Physical Medicine
These may be for physical therapy visits such as chiropractic care, massage therapy, and pain management injections (trigger point and orthobiologic injections).
Nutritional Supplementation
We provide the Biogenetix Neuropathy Support Bundle for proper nutritional supplementation; this includes antioxidants, B12, and NAD+.
Home Care Kit
We also encourage our patients to take home the 90-day kit used in conjunction with office visits. You know what they say about practice, so why would we not do the same for our bodies?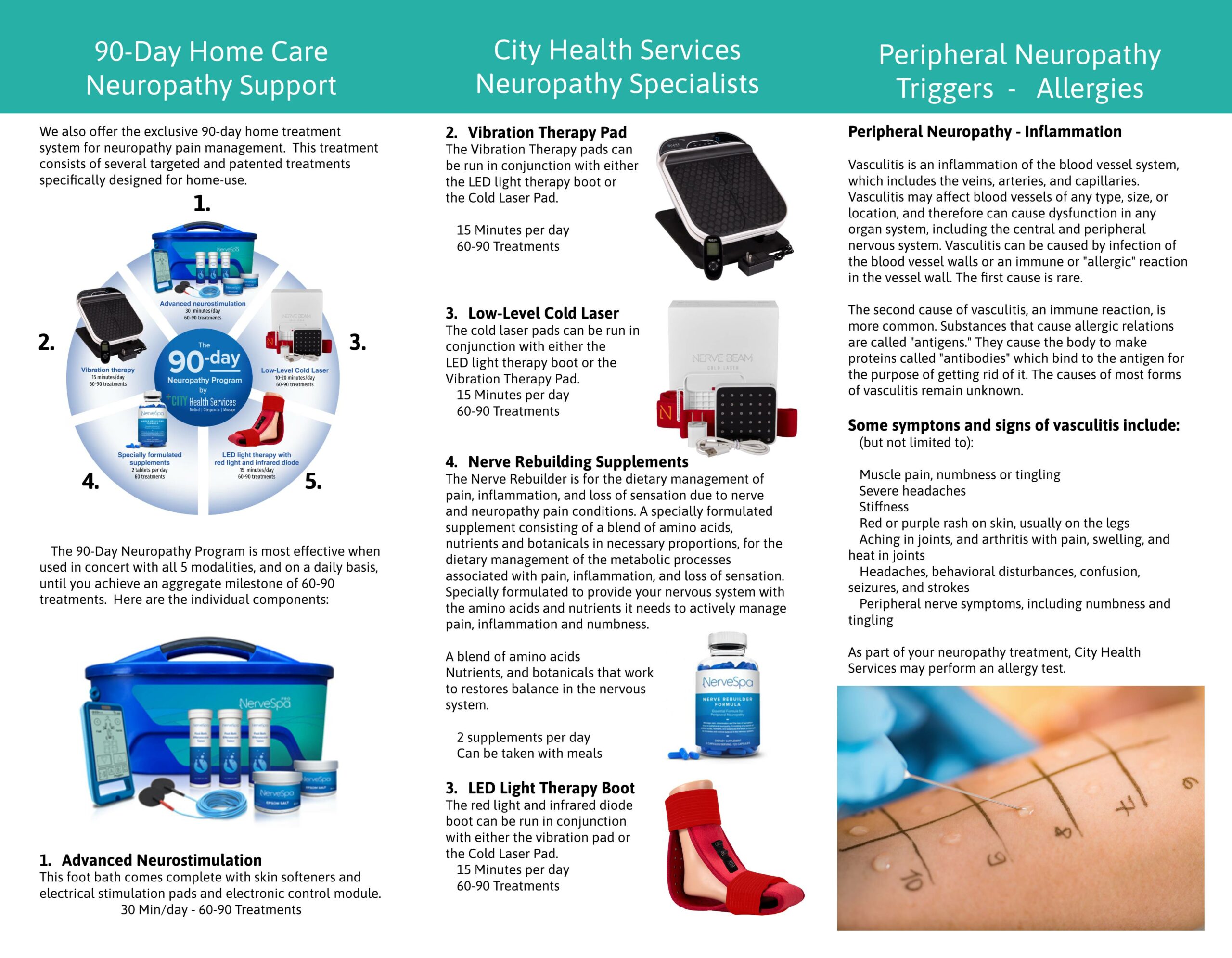 As you can see from the List of treatments above, we have many options at our fingertips to ensure that you have a successful treatment plan. One size does not fit all when it comes to treatment plans, and that's why we customize every patient's treatment plan to the evaluation we perform at the beginning. If you found this blog and are unsure if you have neuropathy click here to learn more about what neuropathy is.
If, after reading this, you are curious to know the next steps for your neuropathy care, click on the request appointment and let's schedule you for a conversation to determine the best route for your neuropathy treatment.